When you're sitting behind the wheel of a Ford Mustang, it's impossible to feel anything less than cool. With the windows down, sunglasses on, and foot on the floor, it feels like flying. We felt the wind rushing through our hair and had the volume turned all the way up, singing along with John Fogerty. "Oh, put me in coach, I'm ready to play today," says John.
"Put me in coach, I'm ready to play today," we say, us and the Mustang. "Look at me, I can be center-field."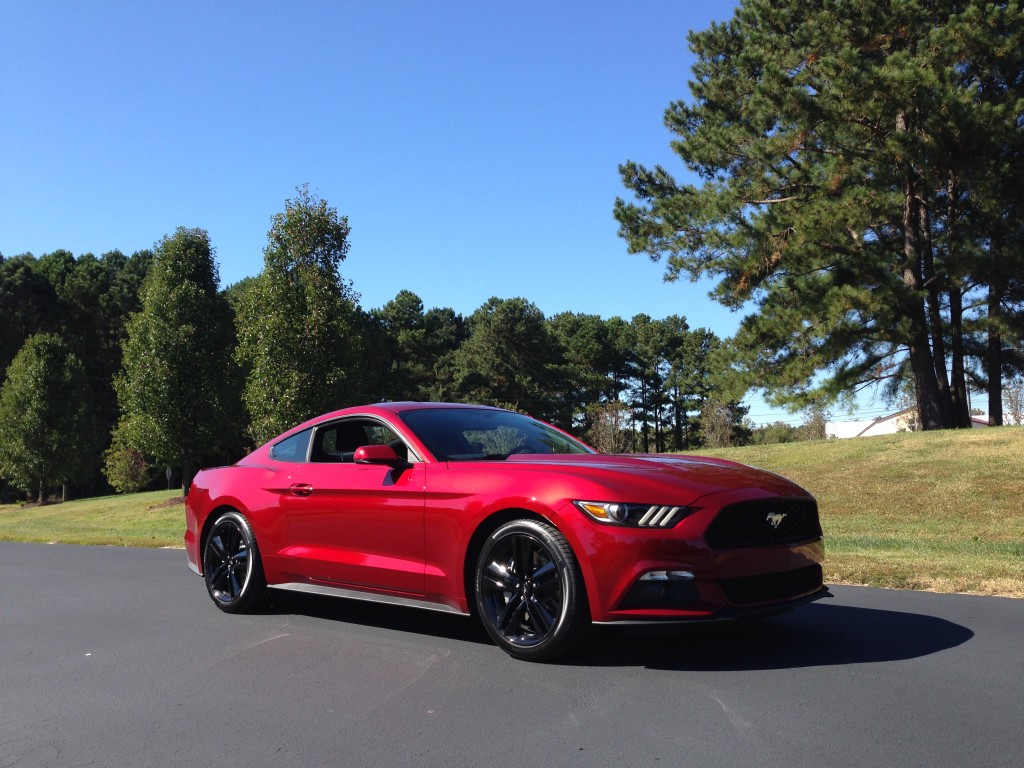 Let's back up.
We had been in touch with Jonny Wisenbaker about the 2015 Mustang because we knew it would be hitting the streets soon. Production began several weeks ago, which means they've been rolling off the line in Flat Rock ever since. It was only a matter of time before they got here. We even prematurely posted a teaser pic on Instagram, not knowing the exact day when we would receive the first car.
Not long now. @ford #Mustang #YearOfTheHorse

View on Instagram
It turns out we got it the very next day; the first new Mustang in all of Raleigh.
Told you it wouldn't be long. We got the first one in Raleigh. @ford #Mustang #YearOfTheHorse #EcoBoost

View on Instagram
When we pulled up, Jonny was just climbing out of the driver's seat, having taken it for a spin himself. Any photos you may have seen don't do it justice, especially that red metallic paint. When the sun hits, the car shines like a ruby on fire. It's low slung, and the body lines accentuate its length, wheel wells, and the slim but solid shoulders at the back. This one had black-painted aluminum wheels that cement it as a wicked-looking ride.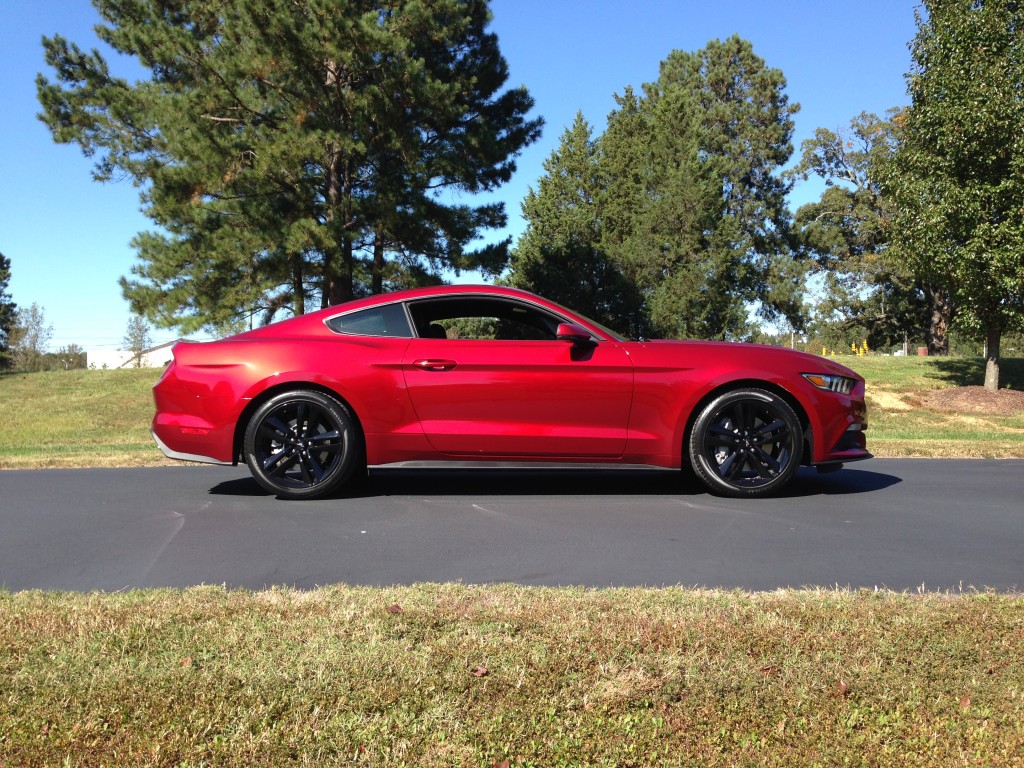 We stood outside talking to Jonny for a bit, and after a while the sales manager, Tony Enderle, came out and told us that he had driven it around a good portion of the county. Then he handed us the key and told us to make sure we put it in Sport mode. Just like that, we had free reign of the first Mustang in the area.
This horse was equipped with Ford's new 2.3-liter EcoBoost turbo-four, and we don't want to bog down this review with a bunch of numbers, but we do want to allay the concerns of anyone who is worried about driving a Mustang with a four-banger. We'll tell you that it makes 310 horsepower (with premium fuel) and 320 pound-feet of torque. It weighs 146 pounds less than the GT, which brings it closer to fifty-fifty weight distribution. All that and it gets an estimated 21 miles to the gallon in the city, 32 on the highway, and 25 combined as tested by the EPA. If you still aren't satisfied, we'll be doing a review of the GT and its V8 whenever it gets here. Until then, let us tell you how this EcoBoost Mustang drives.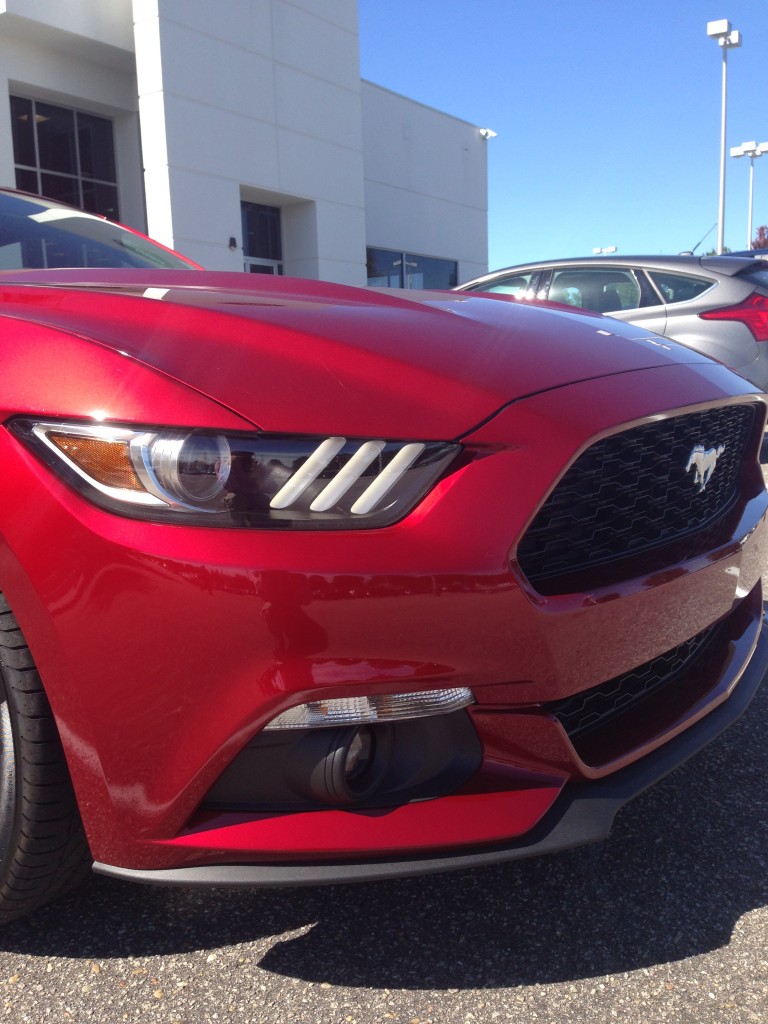 It drives great, particularly when you have nothing but time and anywhere to go. That's not to say we went crazy. After all, this is Wendell, North Carolina, so while the roads might not be bumper to bumper, there was enough traffic around to keep us from really cutting loose. We had to make due with having a lot of fun instead of a whole heck of a lot of fun. There's no such thing as a bad time in a Mustang.
We go back to the start: You can't help but feel cool driving one of these. One of our favorite parts of the new one is the sharp creases running down the hood. They curve inward toward the nose of the car, pointing us in the direction we're going almost like a targeting reticle for the bright red cruise missile we're guiding.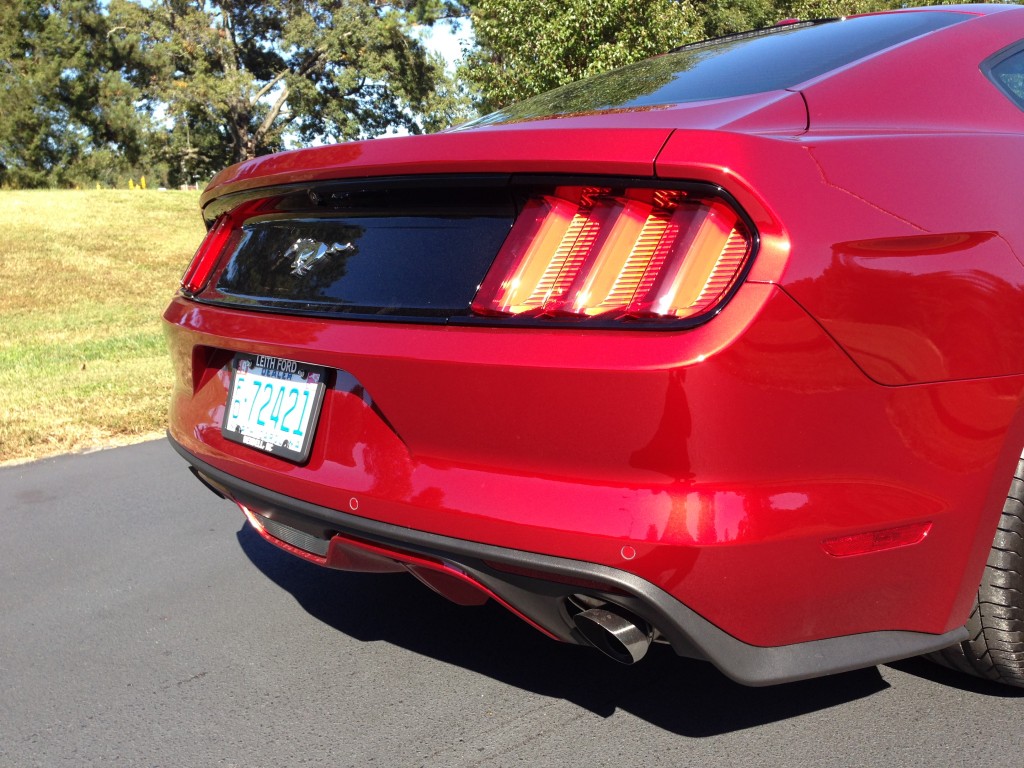 Our drive took us on an improvised circuit of the Wendell test-drive route. If we saw a road we hadn't been down before, we flipped the turn signal in that direction and took off to find out where it went. When we saw a speed limit sign for 35 or lower, we pulled up and made a U-turn as quickly as possible. Decision making is simple in a car like this.
Even selecting what mode to drive in was a breeze. We didn't spend an extended length of time on the highway, so we didn't need to leave it in Normal mode. There wasn't any inclement weather to speak of – it was the most perfect autumn day we've had so far – so we didn't need to put it into Snow/Wet mode. We weren't taking it to the track (not that day anyway), so we could leave Track mode alone. The only mode that mattered to us was Sport mode.
As a result, the Mustang lunged forward with additional vim. The EcoBoost is an eager engine to begin with, but the Sport setting brings forward its best effort, optimizing shifts for speed and power.
We also had three steering settings to pick from. Comfort provides the easiest control, Sport adds weight to the wheel for drivers who want to feel the road, and Standard meets the other two in the middle. We played with the steering a little bit more, flipping through every so often and gauging how the car did on a turn, but eventually we decided that both Sport modes were meant for each other.
Driving and steering modes are selected by toggling through with flipper switches located at the base of the center stack. These are easy to reach and satisfying to manipulate, and they add to the airplane mystique that Ford has infused the Mustang cockpit with. They go nicely with the gauges between the air vents, the layout of the instrument panel, and the speedometer that is labeled "Ground Speed."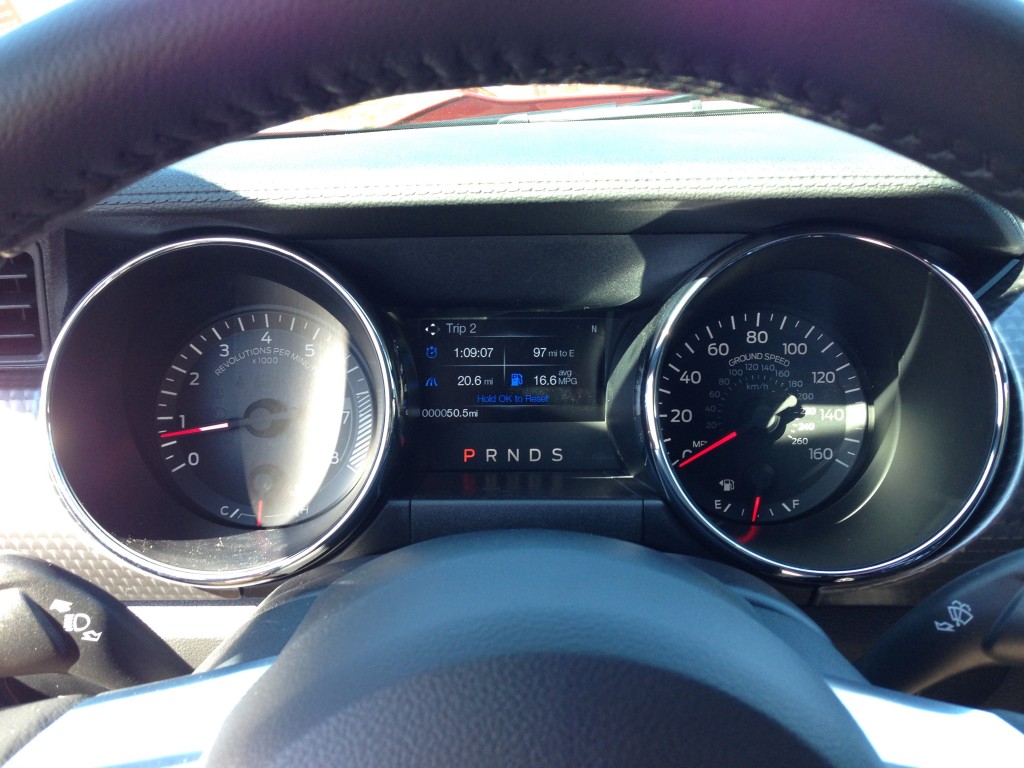 Infotainment is handled by Ford's now-established Sync system, available with MyFord Touch. No major updates are present, so if you know your way around the four quadrants of the touchscreen display, you'll be right at home in this Mustang. We kept the "Entertainment" panel zoomed in while we jumped between radio stations, and with the Shaker™ Pro Audio speaker system, we can tell you that "Pinball Wizard" sounds great in this car, especially at high speed.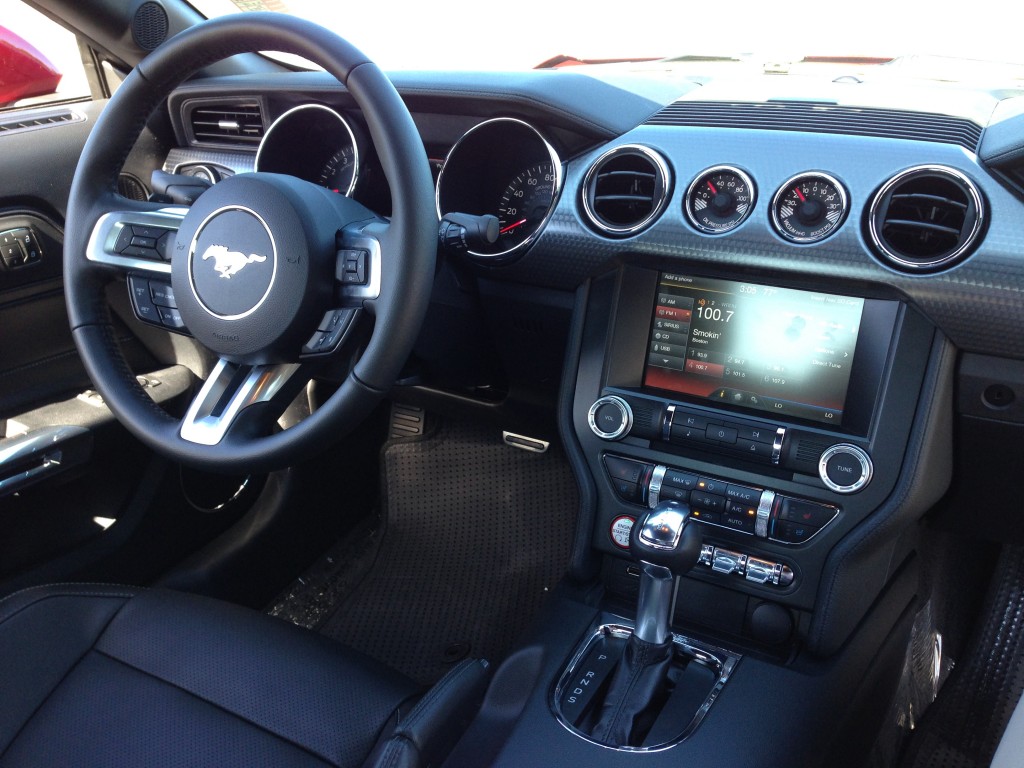 Overall, the interior is a very nice place to be. There's a commemorative badge for the Mustang's fiftieth anniversary over the glove box, and the door sills bear the car's name. The seats are power adjustable and duly comfortable with plenty of side bolster. If you have kids, they'll enjoy riding in the back; although it's technically a plus two, this is a car that made us feel like we were driving it from the rear. Perhaps it's the deceptively long hood playing tricks on us, or maybe it's just the ease with which this car is handled while leaning back into the seat, but when you're on the road in a Mustang it's like no one else exists.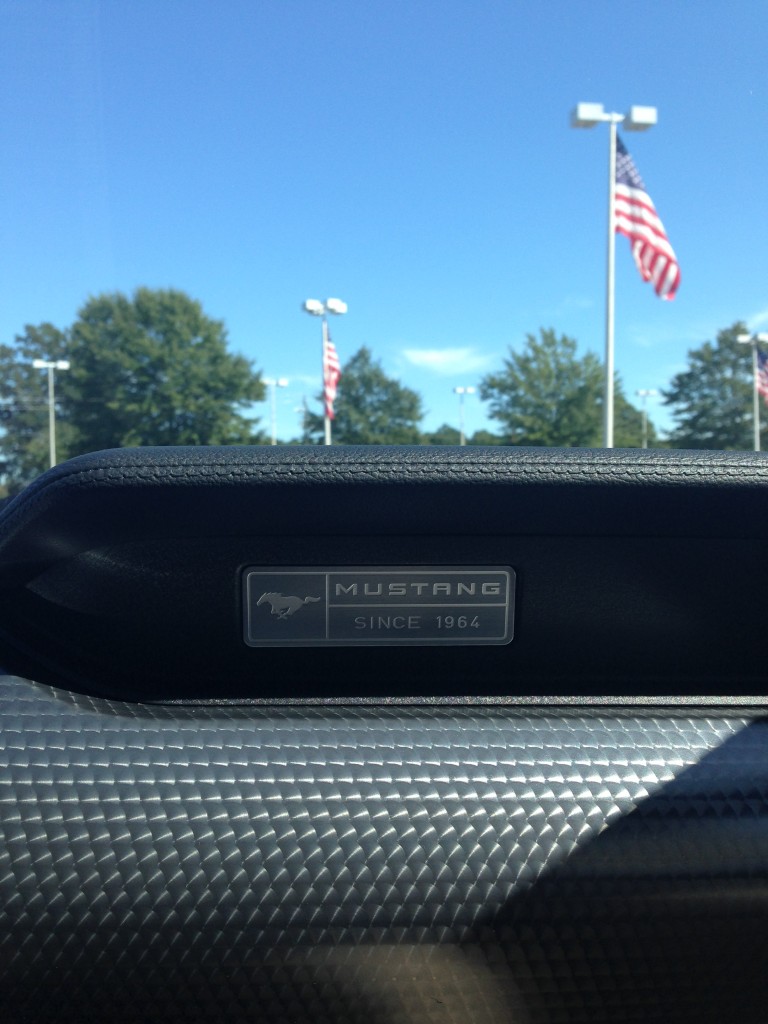 Then you see the people staring, and you come back to reality long enough to smile and nod your head.
We passed one guy in a white last-gen Mustang who gave our ride a long look while stroking his chin as if to say "I'm gonna have to get me one of those."
The Ford logo only appears once on this car, hidden within the tint at the top of the windshield. People will know what you're driving when you pass them on the road. America's most recognizable muscle car looks and drives better than ever.
In the end, we found the EcoBoost Mustang to be more than worthy of the badge it wears. If the idea of a lighter, more powerful, more fuel-efficient Mustang still doesn't sit well with you, you're welcome to wait for our review of the 2015 Mustang GT when it arrives. Until then, the 2015 Mustang with the EcoBoost engine is waiting to be driven at Leith Ford.
Behind the Wheel: The 2015 Ford Mustang EcoBoost
was last modified:
March 23rd, 2022
by